Summer Camp 2019
Enroll your kids for another summer of safe and exciting fun meeting new friends and participating in new activities. Our goal is to provide campers with the opportunity to try new games and crafts while utilizing their creativity and developing their problem-solving skills. We encourage participants to gain new knowledge through various field trips and Camp Visitors that campers enjoy throughout the summer months. Campers' days, at the Apollo Recreation Center and Apollo Park, will be busy with sports activities, arts n' crafts, and preparing for the "Talent Show" that is always a hit ending camp on a high note! Campers will also enjoy the Alsip Park District Sprayfari twice every week.
Groups are determined by age and staffed according to ratios as set by State standards. Staff members will supervise and interact with their group daily. All camp counselors undergo a drug and background check and are required to be CPR/AED, First Aid certified and attend a three-day training session. Counselors are directly involved with week-to-week lesson planning, will lead activities and interact with their group. Your child's counselor will be available daily at regular drop-off and pick-up times to communicate with parents who may have questions or concerns. Though our summer staff members are well prepared with the skills necessary to facilitate a successful camp, we ask that parents communicate with their children the same behavioral expectations as if they were in school. The Alsip Park District would like to provide a great experience for everyone involved which is only possible with cooperation and communication! Note: If you have any questions or special requests, please contact the Apollo Recreation Center staff at (708) 389-1003 prior to registration.
Summer Camp Calandars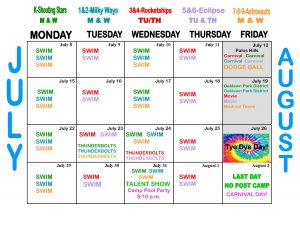 Summer Camp Groups
According to the grade, your child is entering in the Fall of 2019
Flying Saucers: Campers 3 & 4-year-olds
Shooting Stars: Campers entering Kindergarten
Milky Way: Campers entering 1st & 2nd grade
Rocket Ships: Campers entering 3rd & 4th grade
Eclipse: Campers entering 5th & 6th grade
Astronauts: Campers entering 7th, 8th & 9th grade
Summer Camp Registration
All Summer Camp registration will take place in-person only at the Apollo Recreation Center. Please bring the necessary information to complete a camper emergency form, medical release form, and permission form. Your child will not be registered if you are missing required information such as doctor's name and phone number, emergency contact information, and updated medical information. Please plan on 15 minutes to complete the necessary paperwork. Upon registration completion and payment, you will receive one t-shirt for each four-week session your child is enrolled in which is required to be worn on field trip days. If your child does not have their shirt on a field trip day, you will be required to purchase a shirt for a fee of $10.00 or your child will not be permitted to attend the field trip. No exceptions will be made. Note: That if your child requires a shirt in a size other than what has been ordered for their group, a fee will be charged.
Households with balances due from previous camp registrations must be paid in full before a new camp registration can be made. All payments made after May 24 for the camp programs must be paid in cash or credit card. The balance must be paid in full by Friday, May 31.
A 50% deposit is due at the time of registration. Payment plans may be made with the Main Office at the time of registration.  Payment plans may be made with the main office at the time of registration. 
Registration for Residents and Returning campers begins on Monday, February 11.
New Camper registration for residents begins Monday, February 18.
Registration for new Nonresident campers begins on Monday, February 25.
Summer Camp Orientation
It is highly recommended that all parents attend the Summer Camp orientation to meet the camp staff, have your questions answered, and receive a camp calendar. We will review important camp policies and procedures to eliminate confusion throughout the summer. Note: It is important to know what days your child swims on as we do go to the pool the first week of camp. Please bring any questions you may have at this time. We will also discuss drop-off, pick-up, pool days, and field trip days. Please read your Parent Summer, Camp Manual, prior to attending the orientation.
Day/Date: Wednesday, June 5
Location: Apollo Recreation Center-Main Gymnasium
Time: 7:00 pm
A Few Quick Notes…
Summer Camp will be held regardless of inclement weather. If it starts to rain, the camp will be moved inside the Apollo Recreation Center.

Field trips are included in the registration fee. If you choose not to send your child on a field trip, there will be no regular camp. You will be charged $10 for a t-shirt if your child does not have one on the day of a field trip. Field trip transportation can be via school bus or recreational van.

Campers must be picked up promptly after camp or a late fee will be charged. Any camper not picked up after 30 minutes will be brought to the Alsip Police Department. Campers should be dropped off no earlier than five minutes before camp begins.
Campers will swim twice each week. Each camper will be swim tested by the lifeguards the first Pool day to determine the depth in which they may swim. This is for the safety of your child and the decision by the lifeguard is final. The Summer Day Camp staff cannot change this decision. If you feel your child's swim ability has changed you may request a
re-test when campers enrolled in the second four weeks of camp are tested. This is the only time a camper will be
re-tested.
There will be no camp held on Thursday, July 4, due to the holiday. There will be no post-camp on Friday, August 2, due to the end of camp.
A $50 administrative fee will be charged for camp refunds. Refunds are only available one week prior to the start of a camp session.